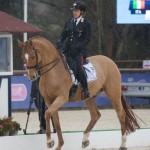 Country: Italy

Valentina Truppa started riding when she was four years old and started competing at the age of 12. She is trained by her father Enzo Truppa who is an international dressage judge. As a Young Rider she won two individual gold medals at the 2006 European Championships in Stadl Paura (Austria) and an individual gold and bronze medal at the 2007 European Championship in Nussloch (Germany). 2013 was a very successful year for Valentina with wins in Frankfurt, Arezzo, Lyon, Villach and Fritzens. In 2012 she won the WDM Freestyle in Munich. She represented Italy at the 2012 Olympic Games in London and at the 2014 World Equestrian Games in 2014. She won the WDM Vian Group Grand Prix Freestyle in Vidauban in 2015.
Her horse is Fixdesign Eremo del Castegno, a 14-year-old gelding by Rohdiamant x Weltmeyer.
Her horse Fixdesign Chablis (1997) is a DWB gelding by Castro x Leonardo II.
Her horse Fixdesign Ranieri (2005) is a DWB gelding by Romanov Blue Hors x Leandro.
Contact:
Centro Equestre Monferrato, Casc. Caramagna 40, IT – 14100 Valgera (Asti), Italy, email: asdcem@valentinatruppa.com
Website:
Facebook:
www.facebook.com/pages/Valentina-Truppa-and-Friends