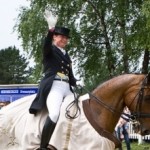 Country: Germany
Isabell was born on 21 July 1969 at Sevelen (Rhineland) and grew up at Rheinberg with her parents Heinrich and Brigitte Werth and her elder sister Claudia. She took up law studies in the winter semester of 1989 and took her final examinations in 2000 and joined the Oexmann law firm at Hamm. From late 2001 until early 2004 she was in charge of the sponsoring programme at Karstadt Warenhaus AG. In 2004 Isabell set up her own Dressage Training and Show Stable at Rheinberg/Niederrhein.
From a very young age, at the age of only five, Isabell enjoyed riding on her pony mare "Illa" and a little later, on "Funny", she won her first ribbons .
Isabell was passionate about jumping and eventing, until "the Doctor" took her under his wings. On New Year's Eve in 1986, when Isabell was only 17, her neighbour Dr. Schulten-Baumer sen asked her whether she would like to ride some of his horses. This was the beginning of a cooperation between coach and rider which was to be unique in the whole world. With each of the Doctor's horses Isabell celebrated triumphal victories, but her best moments were due to Gigolo, the chestnut gelding.
Isabell Werth is the world's most successful dressage rider. With six Olympic gold medals, seven medals at World Championships, 14 medals at European Championships and eight times German Champion.
Her horse Don Johnson (2001) is a Hannoverian gelding by Don Frederico x Warkant.
Website:
Facebook: